All news
Company update
May 04, 2021
Dr Henrik Lindström and Giovanni Fili named European Inventor Award 2021 finalists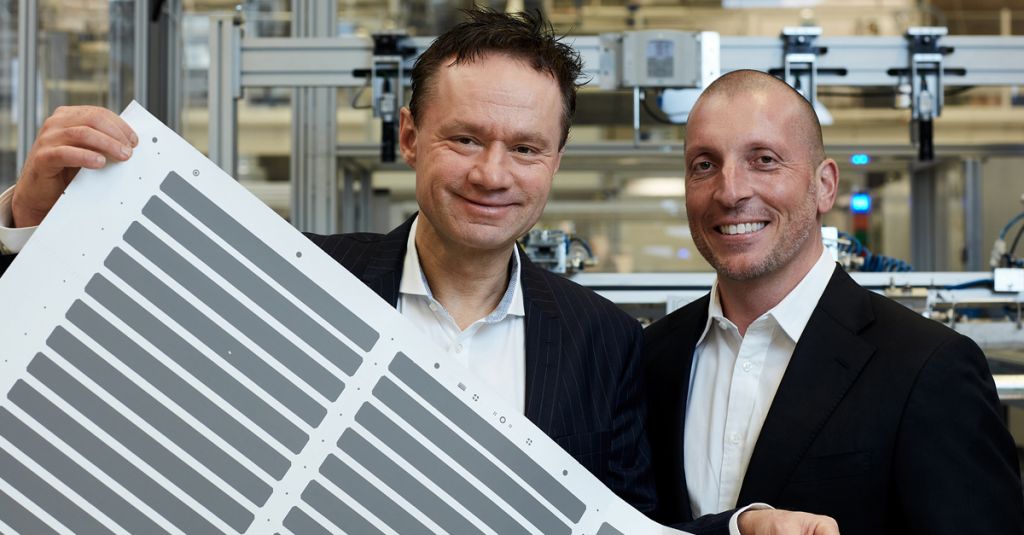 – Swedish innovators nominated for European Patent Office (EPO) prize for improving Dye-Sensitised Solar Cells (DSSC) which results in ability to print large, powerful, free-form solar cells 
– Henrik Lindström and Giovanni Fili invented a new electrode material with 1 000 times better conductivity layered under the light absorbing surface of the solar cell 
– The solar cell material excels at harvesting electricity indoors and will debut in self-charging electronic devices this year
Stockholm, 4 May 2021 – The European Patent Office (EPO) announces that the Swedish innovators Henrik Lindström and Giovanni Fili have been nominated as finalists in the "SMEs" category of the European Inventor Award 2021 for their efficient and versatile Dye-Sensitised Solar Cell (DSSC). Their new solar cell technology is being integrated into consumer products enabling a new segment of self-charging electronic devices that can generate power from all forms of light, both indoors and outdoors. 
Commercialised through their company in Stockholm, the new DSSC material is thin, flexible and durable. Their innovation, the superconductor inside the cell, enables free form printing to make 'Powerfoyle™' solar material in various textures, shapes and colours. Their company plans to introduce the material in various products on the market, for example in bicycle helmets that use self-charging lights, and self-powered headphones. 
"Lindström and Fili's invention paves the way for the development of a new generation of self-charging electronic devices," says EPO President António Campinos, announcing the European Inventor Award 2021 finalists. "The patents behind their technology are essential in making their products commercially viable in a wide variety of markets". 
The winners of the 2021 edition of the EPO's annual innovation prize will be announced at a ceremony starting at 19:00 CEST on 17 June which has this year been reimagined as a digital event for a global audience.
Self-charging devices
First-generation silicon photovoltaics (PV) in solar panels are the world's fastest-growing energy source while third-generation PV, such as DSSCs solar cells, are rapidly reaching maturity. They do not use expensive silicon and can be lightweight, thinner, more flexible and are made from more commonly available and environmentally friendly materials. Issues such as design and relatively low efficiency compared with silicon photovoltaics have held back DSSC commercialisation until now. Lindström and Fili's invention and new architecture of the DSSC is more efficient in both artificial light and sunlight while offering completely new design possibilities for customers. The solar film containing the enhanced cells is now hitting the market in self-charging electronic devices.
Having been an entrepreneur from an early age focusing on a variety of industries such as pharmaceuticals and real estate, Fili decided to invest in renewable energy in 2008 and founded the company Exeger. He aimed to commercialise the highly promising DSSCs pioneered by the Swiss chemist Michael Grätzel in 1988, which at the time were still commercially unviable.
This was the same technology that Lindström and some colleagues had successfully reproduced in 1994, during his PhD at Uppsala University. A friend of Lindström's suggested that the two should meet and, convinced by Fili's vision, Lindström became the start-up's CTO in 2009. The technical, concept-driven scientist and the analytical, product-driven entrepreneur initially spent months together reflecting on how to best commercialise DSSC technology.
DSSCs usually feature a transparent substrate plate topped with a conductive oxide material (ITO). Underneath lies a layer of light-sensitive dye that absorbs sunlight and releases electrons. In 2010, the cost of these materials was still restricting progress. But this changed after the pair were struck with a breakthrough idea.
"I realized early on that the DSSC motor had immense potential but creating an industry from a laboratory cell required new breakthrough innovations in both solar cell technology and industrial manufacturing. Replacing the expensive and inefficient ITO layer was therefore the key to re-inventing this solar cell technology on which we have built Exeger. Now, 12 years later, our first products have been announced with partners in Sweden. This marks the start of a new era of self-powered products where charging cables become obsolete and our Powerfoyle technology is likely to become the new standard," says Fili.
"Our solar cell has a new electrode material with 1 000 times higher conductivity, allowing us to print large homogenous surfaces, in free-form, and with different textures without compromising electrical power output. The distinguishing feature is, that for the first time, the electrode is located directly behind the light absorbing layer, which means that more light reaches the cell, and more electrical current is generated. The solar cell can therefore be seamlessly integrated into almost any product, giving them a reliable source of energy, under any light source, whether artificial light or sunlight," says Lindström about his invention.
After mapping out the concept on a paper napkin during a flight, they got to work.
To successfully replace the light-stealing ITO layer, Lindström had to invent a new electrode material. This conductive material, with a much higher conductivity than has been achieved in the solar cell industry, was the key to unlocking all the features of the re-designed DSSC. First, they shifted the conductive layer from the top to inside the solar cell, increasing the amount of light reaching the dye absorber by 10-20%. Their conductive layer is light, flexible, heat-resistant and does not require a costly grid of silver lining to transport the electrons generated from the light absorbing layer. This in combination with screen printing as the chosen manufacturing method opens up entirely new possibilities in design integration for the products the solar cell charges.
While record DSSC solar cells have light-to-energy conversion efficiency of around 13% outdoors and up to 30% indoors, the light conversion efficiency of the new cell with a 1 000 times higher conductivity remains undisclosed. The materials used in Lindström and Fili's DSSCs are abundant, non-toxic and easily sourced. Exeger filed a US patent application for an early version of the technology in 2010, before applying for the primary patent behind the DSSCs in 2011.
Scaling solar foil for self-charging devices and surfaces
As Lindström and Fili's invention began to transition to the production line in 2013, the company was renamed Exeger (formerly NLAB Solar). Its pilot factory in Stockholm had its demonstration run in late 2014, and the company was granted a European patent for their invention in 2018. Fili attracted investors in the early stages, but patent protection became crucial for offering security to future investment partners and for the company's long-term commercial freedom. "Everything is based on this family of patents around the superconducting layer that Henrik has created, which is revolutionary in our line of business," says Fili. 
In 2019, after several years of fine-tuning their production processes and working with potential clients on product ideas, Exeger raised approximately EUR 40 million over three funding rounds. EUR 20 million of this came from Japan's SoftBank Group, with which Exeger entered into a strategic partnership to accelerate the global rollout of its DSSC technology. 
Fili says all research carried out by Lindström's team relates directly to product applications, making patent protection all the more important. Several product launches are planned for 2021. Segments already announced are self-charging biking helmets and self-charging wireless headphones. 
Currently, Exeger employs 140 staff at its factory in Stockholm and plans to begin construction on the second factory with tenfold capacity later this year. This will allow the company to enter many more markets, focusing on consumer electronics and potential traditional outdoor markets after completion of that factory. The inventors say that their research and development team is vital for Exeger's continued innovations and success. The team today consists of 36 employees, 42% of whom have PhDs.
About the inventors
Dr Henrik Lindström was born in Uppsala, Sweden, on 17 April 1967. Lindström studied undergraduate chemistry at Uppsala University. While working on his first PhD in batteries and DSSC solar cells research at Uppsala University, he became the first scientist to produce a solar cell on a flexible plastic substrate. Lindström also worked as a postdoctoral scientist at the National Institute for Materials Science in Tsukuba, Japan (2005-2007). From June 2007 to January 2009, Lindström worked as an industrial researcher for the nanotechnology firm NTERA, Inc., in Dublin, inventing methods for manufacturing reflective monolithic electrochromic displays. In 2009, he took his current role as Exeger CTO.
Giovanni Fili was born in Hällefors, Sweden, on 5 February 1976. Fili completed an MSc in Business and Administration at Stockholm School of Economics in 2002. He then focused on private investments in real estate and was a founding partner and board chairman of numerous real estate development companies. He joined the Swedish Royal Institute of Technology (KTH) in August 2008, one month before founding the DSSC company NLAB Solar AB (now Exeger). Fili also co-founded the diabetes treatment start-up Atrogi AB in 2013, and sits on the board of the medtech firm Sigrid Therapeutics AB. He is an advisory board member for the Stockholm Innovation & Growth forum and a founding board member and investor at Molindo Energy AB, a Stockholm-based energy sector investment company. Fili is the Founder and CEO of Exeger.
Henrik Lindström and Giovanni Fili are named in six and five European patents respectively, including the nomination-related patent EP2625703, which was granted in 2018.
View the video and photo material for Henrik Lindström and Giovanni Fili
About Exeger
Exeger is a Swedish company with a unique solar cell technology that converts all forms of light into electrical power. With its resilient and flexible design, Powerfoyle can enhance any consumer electronic product it's integrated into with extended or even eternal battery life, placing the power of cutting-edge solar technology directly into the hands of consumers. By revolutionizing the perception of available energy, Exeger makes products both smarter and more sustainable – with the vision to touch the everyday lives of a billion people.
About the European Inventor Award
The European Inventor Award is one of Europe's most prestigious innovation prizes. Launched by the EPO in 2006, it honours individual inventors and teams of inventors whose pioneering inventions provide answers to some of the biggest challenges of our times. The finalists and winners are selected by an independent jury consisting of international authorities from the fields of business, politics, science, academia and research who examine the proposals for their contribution towards technical progress, social development, economic prosperity and job creation in Europe. The Award is conferred in five categories (Industry, Research, SMEs, Non-EPO countries and Lifetime achievement). In addition, the public selects the winner of the Popular Prize from among the 15 finalists through online voting.
About the EPO
With 6 400 staff, the European Patent Office (EPO) is one of the largest public service institutions in Europe. Headquartered in Munich with offices in Berlin, Brussels, The Hague and Vienna, the EPO was founded with the aim of strengthening co-operation on patents in Europe. Through the EPO's centralised patent granting procedure, inventors are able to obtain high-quality patent protection in up to 44 countries, covering a market of some 700 million people. The EPO is also the world's leading authority in patent information and patent searching.